We're thrilled to announce our 4th event! FaberryCon is going back to its Atlanta roots once again, where the first convention (East) was held. We had such a great experience and look forward to sharing it with new friends like you!
With each new con, we're growing and changing as an event and as a community. We want everyone who joins us, whether for your fourth time or your first time, to feel safe and welcome and loved, and to make new friends to discuss your current fannish interests, Faberry or otherwise. This time, that focus -- connections and intersection -- is more at the forefront than ever. FaberryCon is a family, and we want you to be a part of it.
General Information:
Official con programming will run all day (11am-11pm) Friday, Saturday, Sunday, as always, so we strongly recommend you don't leave before Monday morning! We've also scheduled some special events Thursday evening, preceding the con, to entice you to arrive early. Fly in Thursday by 6pm if at all possible -- you'll be glad you did.
Programming and schedule details are now available!
Hotel Information:
The hotel is fantastic (omg look at it) and excited to have us back! Free airport shuttle, free wifi, free freshly cooked breakfast, 42" TVs in every room, a restaurant/bar/Starbucks in the hotel directly next to the con space, a Ruby Tuesday next door -- it's a terrific spot! The sleeping rooms are large with their own built-in living room areas, couch/sofabed, mini fridge, coffeemaker, and bar counter. We'll have 3 party rooms open to all attendees for socializing, games, snacking, drinking, and other shenanigans throughout the weekend. Currently, the only unknown factor is parking rates, which may or may not be in place by July, but we'll keep you posted. All around, this hotel is truly the best value of any we've used.
We get a discounted rate of $114/night for sleeping rooms. Booking at our discounted rate is now closed! Please contact jarrow ASAP at faberrycon@gmail.com if you need space in a pre-existing room. We'll always help you find great roommates if you need.
To change your reservation by phone or book at the standard rate ($149), call 888-HYATT HP (888-492-8847)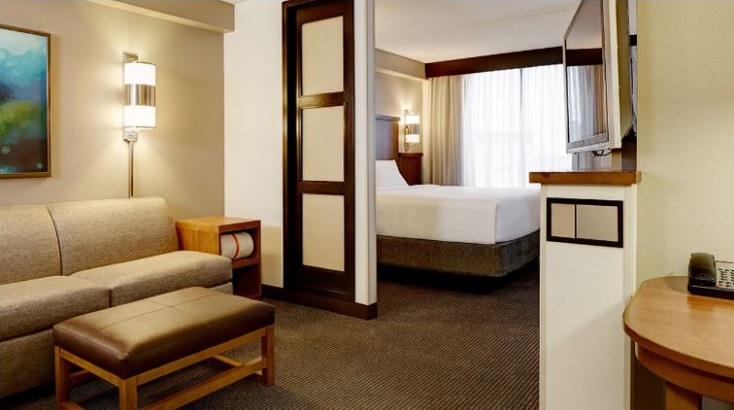 Keep an eye on our Tumblr and Twitter for annoucements and updates!