We're thrilled to announce our 5th event! FaberryCon Five will be back in Atlanta, where we've had so many great weekends in years past.
But as all good things must come to an end, this will be the final FaberryCon in the current convention format. We hope to continue to come together as a fandom in a more casual/meetup style starting in 2017. But for now, here in our final con, we party!
With each new con, we're growing and changing as an event and as a community. We want everyone who joins us, whether for your fifth time or your first time, to feel safe and welcome and loved, and to make new friends to discuss your current fannish interests, Faberry or otherwise. Connecting with other fans is what it's all about. FaberryCon is a family, and we want you to be a part of it.
General Information:
Con programming runs all day Friday, Saturday, and Sunday. (Most people come in Thursday night and stick around until Monday.) Programming details and the schedule are now available!
Hotel Information:
The hotel is fantastic (omg look at it) and excited to have us back! Free airport shuttle, free wifi, free freshly cooked breakfast, free parking, 42" TVs in every room, a restaurant/bar/Starbucks in the hotel directly next to the con space, a Ruby Tuesday next door -- it's a terrific spot! The sleeping rooms are large with their own built-in living room areas, couch/sofabed, mini fridge, coffeemaker, and bar counter. All around, this hotel is truly the best value of any we've used.
We'll have 3 party rooms open to all attendees for socializing, games, snacking, drinking, and other shenanigans throughout the weekend. We're offering two special deals -- if you (and maybe some friends) are willing to live in one of the party rooms from Thursday through Monday, the con will cover 25% of the bill! (In other words, you get 1 night free!) You'd have a king bed and the sofa-bed at your disposal. Details on claiming one of these will be released in April.
We get a discounted rate of $119/night for sleeping rooms. (However! Because the state of GA adds an extra $5/night fee, it's really $124/night.) We'll always help you find great roommates if you need.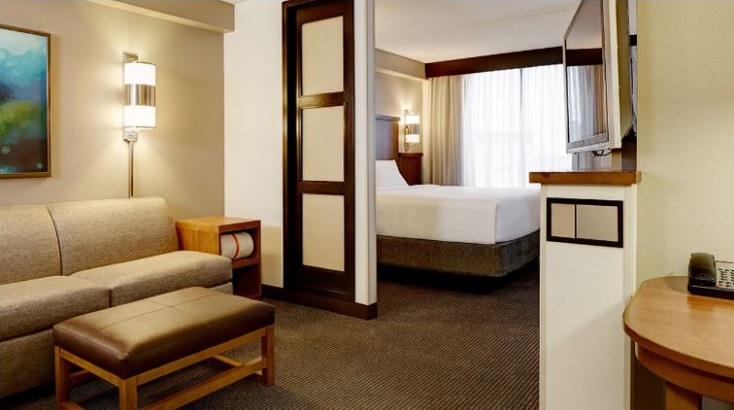 Keep an eye on our Tumblr and Twitter for annoucements and updates!